** If it is over 100 years old you should probably leave it alone in order to maintain its value,
if in fact it has not already been tampered with. **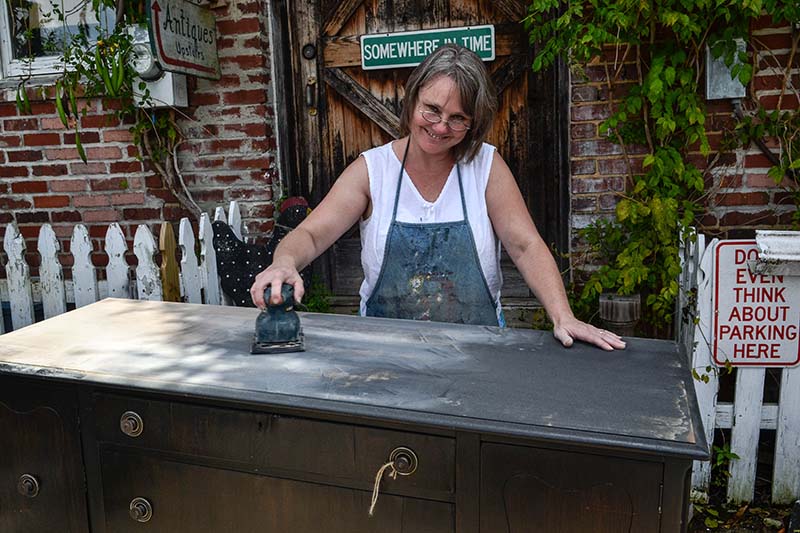 >To completely refinish is to strip everything off and start over with a clean Slate. I used to do this often and still will if the wood underneath the many layers of paint is worth it. To determine this take a pocket knife and scrape down to the wood in a not so noticeable location. If it is not okay or chestnut or maybe mahogany than it probably isn't worth the effort. It will look just as good with one more coat of paint on it. Well then, consider painting a piece takes about an hour on average.>
Stripping takes many hours and sometimes days, unless you have a VAT to dip the piece in. Some people think painting over wood is a sin. Unless it is a true valuable antique, I think it is okay to do what you want to make your own.
It is always a good idea, if the piece has any markings on it to research it and find out its history. If you can't find any identifying marks it is probably okay to just follow your heart and make your own.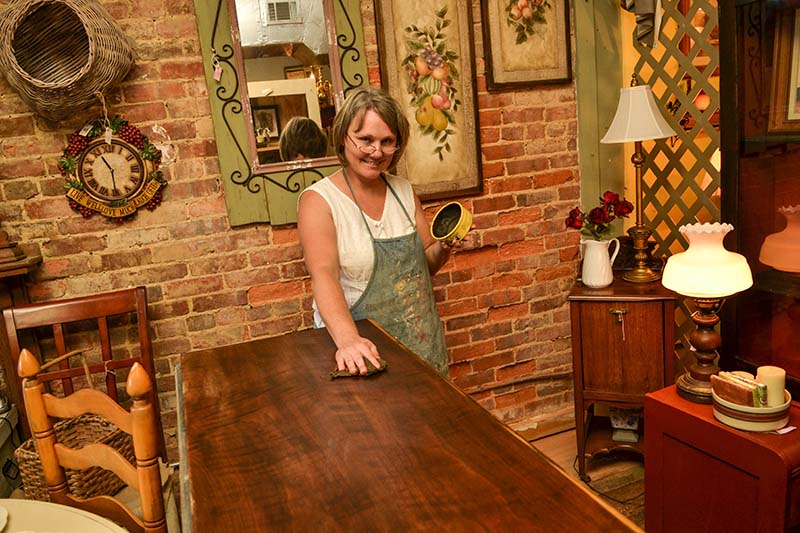 >Some questions to ask might be, why are you wanting to make a change, and do you want to restore it to its original beauty? Is it a sentimental piece that you want to look just like you remember it as a child? Or, did you pick it up at a yard sale this morning, because you saw the potential in it?>
If you want to restore it there is a wonderful product I use all the time and often saves me the trouble of stripping and starting over. It is called "Howard's Restore a Finish". You can find it in many small antique shops. It is as simple as pouring a little onto a piece of quadruple ought steel wool, rubbing it in and then wiping it off with a clean soft cloth.
Unless your piece is a total disaster this stuff is truly a miracle in a canyon! As long as the wood is good, (even if it is scratched to heavens and back), you can use this stuff to make it look like new again.
How about repurposeing a piece, questions to ask: Is there anything wrong with taking a buffet or dresser and turning it into a bathroom vanity? Or perhaps taking a bed and turning it into a lovely bench. An old sewing machine into a planner and a table? This girl says heck no! There is a bed/bench on my website that was headed for the burn pile, the rails were broken as was the footboard. This beautiful piece of history deserved to be preserved. Now, its in a new home, where it's a centerpiece in the foyer. Quite functional for its new family.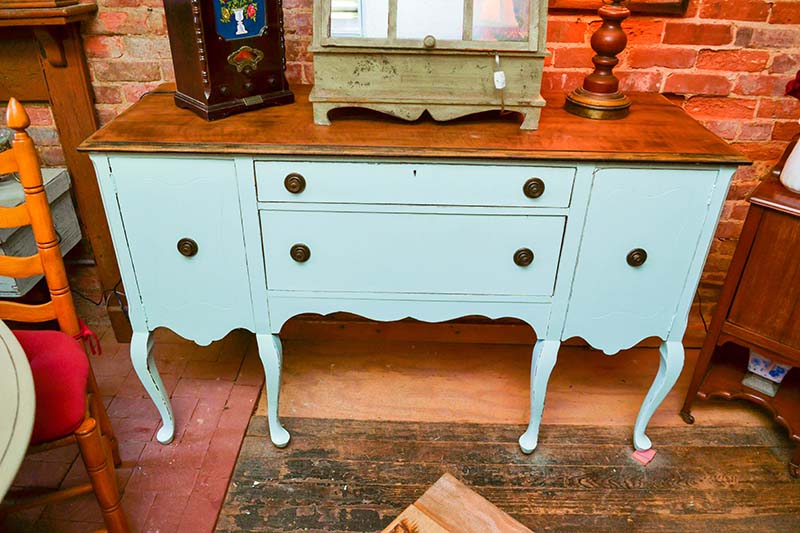 >We get makeovers all the time... So, now and then, when I get these castaways I say let them have a chance at a new life! Heck, a tree fell on to our 112-year-old home recently and has the construction crew began, I gave strict instructions that everything you take off this house is to be saved. I will make it all into something new and given new life. This beautiful old wood is now in many homes around town as cabinets cupboards signs and more. I just could not see tossing all that 112-year-old wood into a dumpster and letting it die. I guess, you can see I have a problem with letting things die. To me there is always hope in Jeremiah 29:11, God says, I know the plans I have for you declares the Lord, plans to prosper you and not harm you, plans to give you hope and a future. This is how I feel about many of the items that come into our store they may have seen hard times, but I can give them a new life in a new home. I know that what I sell is just enough, but if you come into the store asked me about the special items that I got from (the girls) and you will understand how these items are not just stuff, but blessings from God. I promise a story will bless your heart.>
So, I guess it is up to you to decide if it deserves to be restored to its original beauty, completely refinish to do something that may be better than it was when it was new. Or does it just need a new life completely.
Antique Shop & Country Decoration Dallas-Hiram Ga
Antique Furnishings Paulding, Cobb, Bartow, & West Atlanta Areas